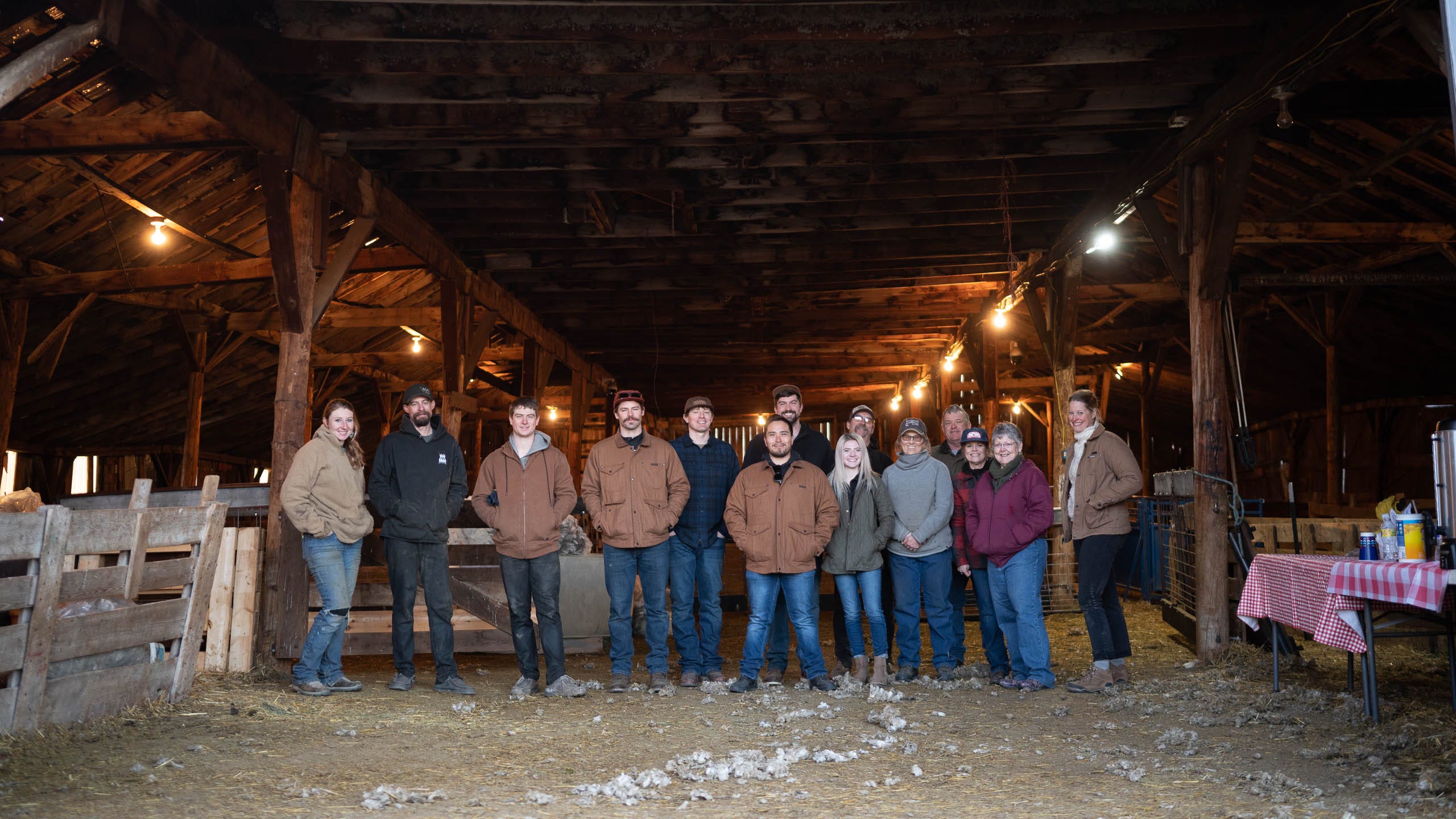 The Committee's First Shearing Event
Wool is one of our favorite natural materials, good for insulation, good for the planet, and requires fewer washes over its lifespan due to its anti-bacterial proporties. Betty Sampsel invited us out to her ranch, The Hughes Newford Ranch to get an idea of the whole process. Full disclaimer, the wool and the sheep you see in this video is not ours. We do hope that in the future we can buy local wool from smaller family run ranches like Betty's. Her wool is sent off to be washed, stored, and sold at action. The diffiuclty for us is finding factories that can handle raw wool, wash it, weave it, and knit it. It is quite the process and we definitely learned a lot from Betty and the Shearing Crew (Shearing 406).
The only good kind of traffic jam is this: watching sheep or cows be herded across the road by ranchers, horseback. The delay gives you a moment from another era, and the windshield spectacle gives way to wonder. Then curiosity asks, would I have what it takes to care for hundreds of animals as my lone livelihood, no matter Mother Nature's mood? Could I scrap weekend plans to fix crotchety old machinery needed to run a ranch? Rise early in the morning in the freezing weather to break ice for sheep to drink…with a chainsaw? Which begs the question, how does anyone outside of agriculture even peer into the day to day life of a working ranch or farm?
It helps to have a friend like Betty Sampsel.
Betty has been raising sheep for 50 years or so, and she invited Smith and Rogue to Shearing day–a pivotal day for a sheep operation. Located an hour or so east of Great Falls, her invitation was to join the workday's cast of characters: hired pro shearers, Montana State Wool Lab and MSU Sheep Extension staff, and a few local friends to lend a hand with hundreds of sheep needing to be sheared.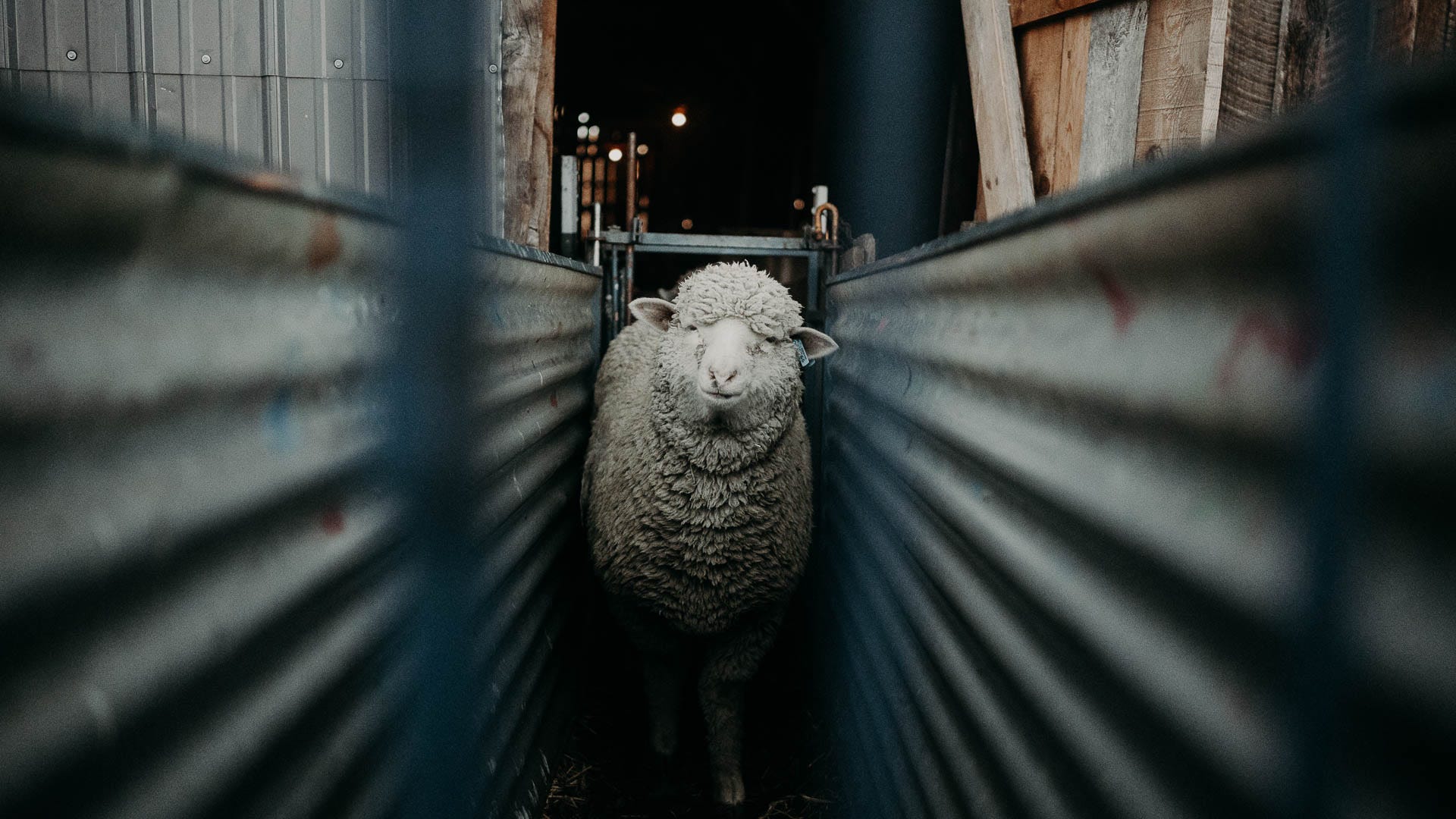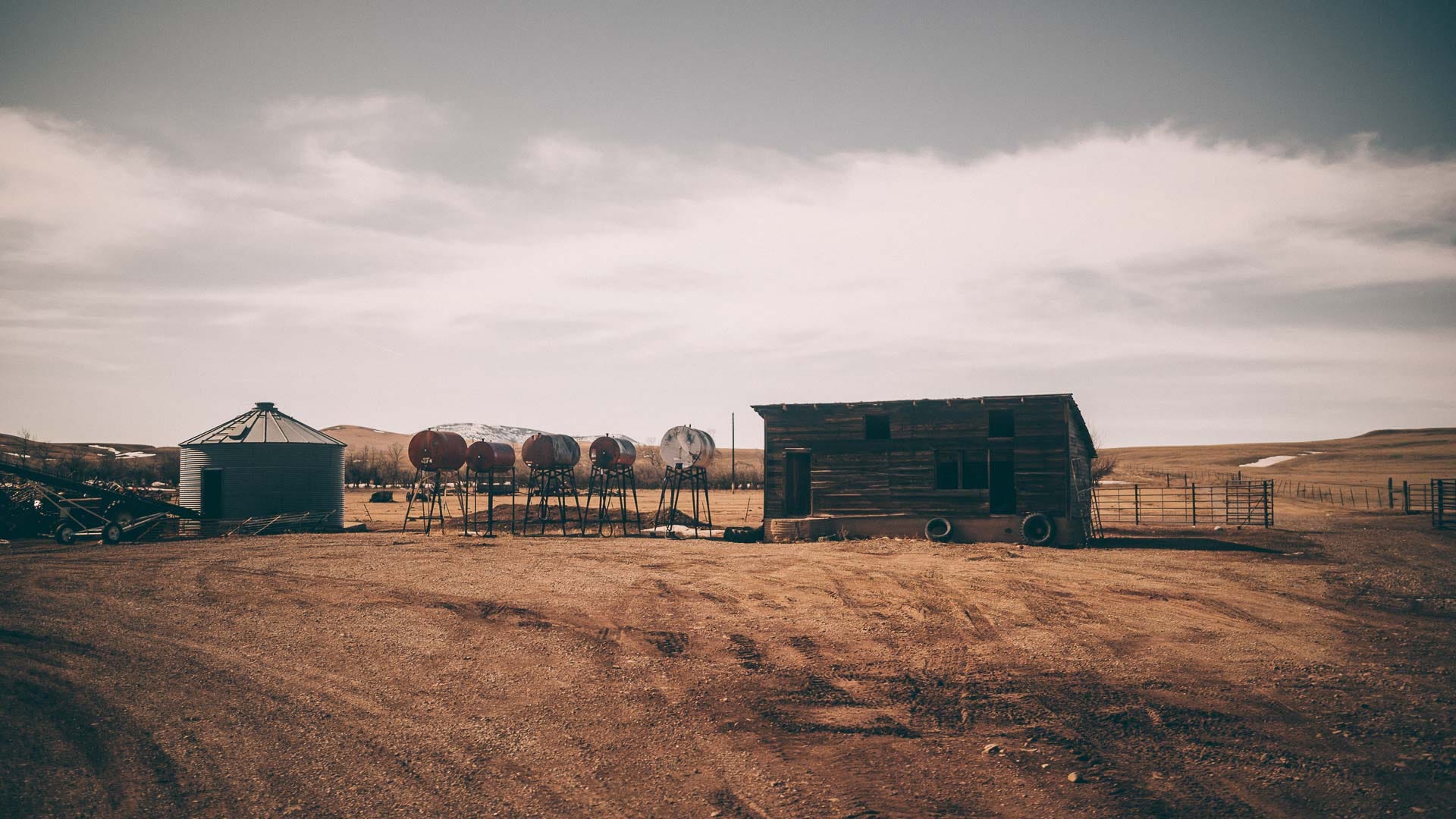 What is shearing, exactly? Shearing is the process of clipping wool (the fleece of the sheep) off of a sheep. It's like an efficient, full body "haircut" with hundreds of recruits waiting in line for their turn. Shearing must be speedy because so many sheep must be shorn on the same day while the weather conditions are just right. It sounds straightforward, but the work is backbreaking.
Does shearing hurt the animal? Nope, and the wool grows back. Shearers are highly skilled and the sheep remain calm. They roll the ewes (female sheep who are expecting) onto their rumps for the trim and cut the wool off in an established pattern which helps remove different qualities of wool from different areas of the animal. This wool is sorted accordingly, which corresponds to what the wool can best be used for. These livestock often give birth to twins, triplets and even four lambs, so handling these fat mamas with care is crucial. The sheep's fleece grows back again over the spring and summer's warm weather and by the end of winter, is completely regrown and ready to be sheared again.
Professional shearers must be strong, physically fit, and are trained by certified shearing programs. Shearing sheep is an extreme, all-day workout maneuvering hundreds of 150+ pound animals all while wielding sharp clippers bending and reaching around the pregnant sheep. The shearing crew need gallons of water to drink, take breaks to do full body stretches, and bring lively music. Worldwide, there's a shortage of shearers, and the reasons are obvious when you see the physical exertion over a long day. Betty hired a solid crew called 406 Shearing, and they're downright impressive to watch.
So the next time you find yourself in a pleasant traffic jam, and perhaps daydream a bit about living an "out of town" lifestyle, keep your eyes peeled for upcoming opportunities to learn more about where your wool sweater came from, or the unique perspectives that come from a smaller town than you're used to. Even look for a summertime County Fair that hosts a shearing contest–watch closely and stare in awe. You can even strike up a new friendship at a small town watering hole…friendly people like Betty are all around Montana. And who knows? Maybe you'll be the next one invited to a ranch for sheep shearing.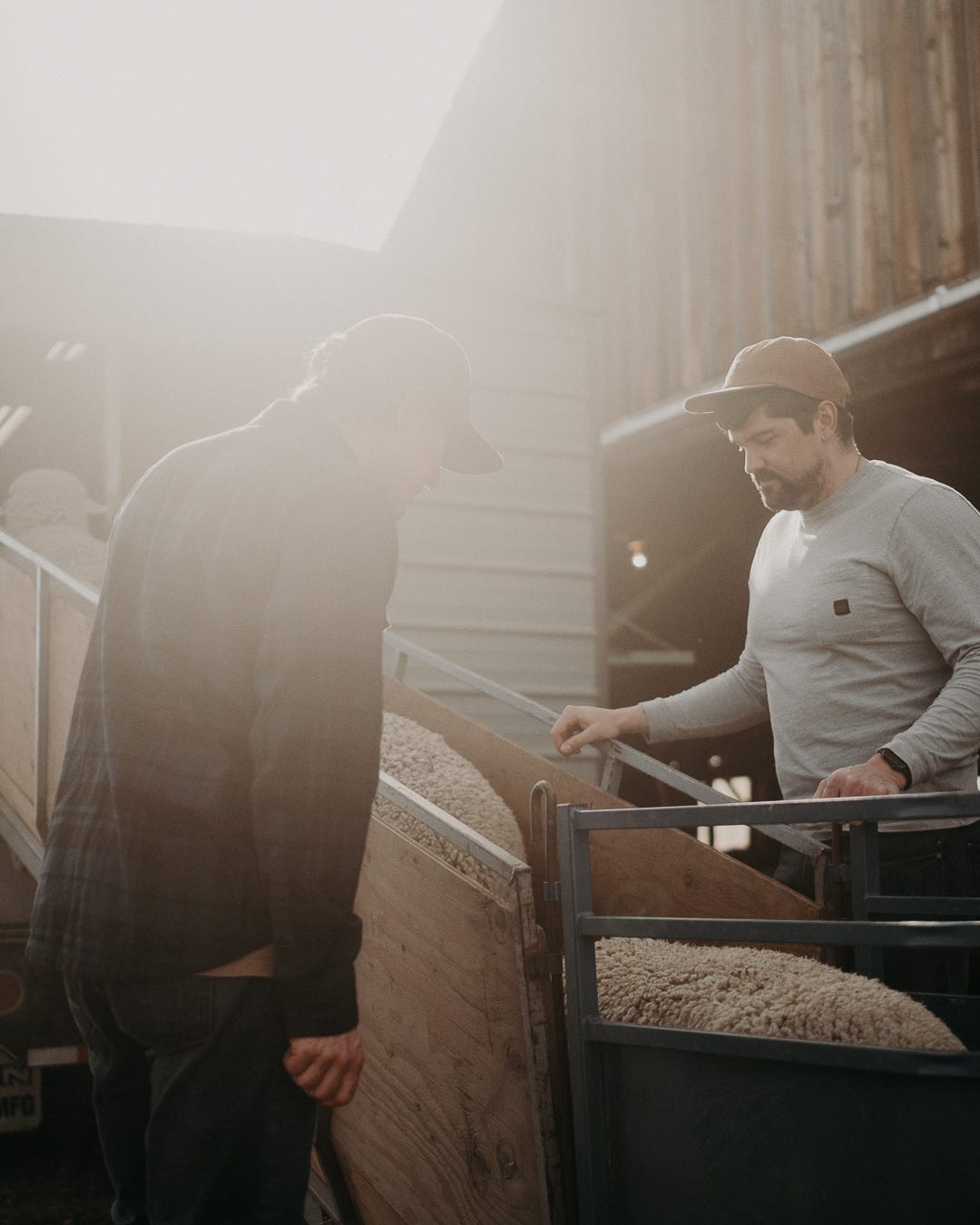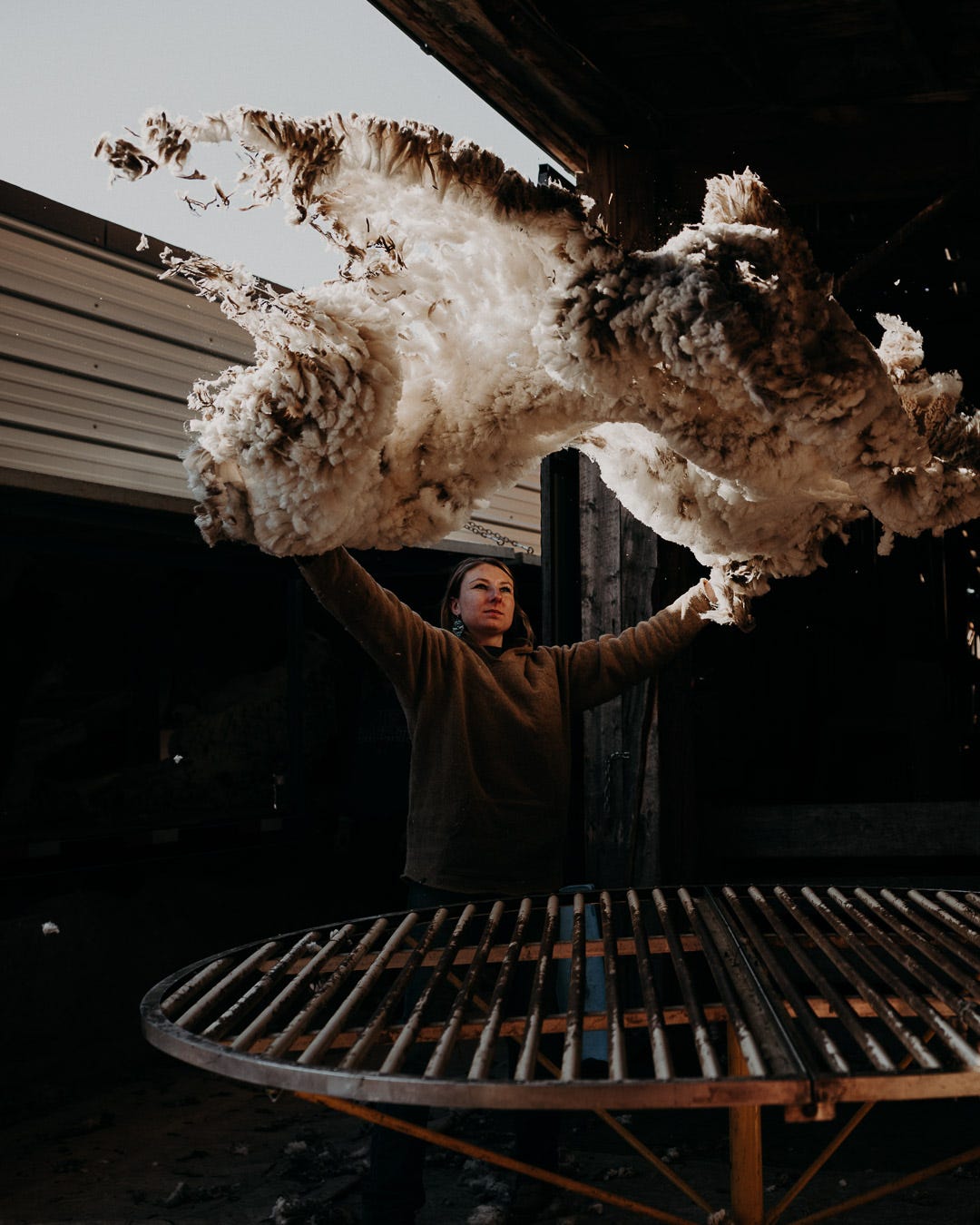 Want to dig deeper? Here's some good material:
Watch sheep shearing on a central Montana ranch. https://www.youtube.com/watch?v=hM7gfrst71w
Read "Raw Material: Working Wool in the West" by Stephany Wilkes. Her engaging personal story of going from never having even touched livestock, to becoming a certified sheep shearer is full of realizations about agriculture and the backbreaking strain to learn the craft. She'll earn your respect.
Scroll: Instagram accounts to follow are the Montana Woolgrowers and the Yorkshire Shepherdess
Weekend camp experiences: Shepherd camps in Townsend, MT teach and give hands-on experience with lambing (when sheep give birth) and many nitty-gritty aspects of raising livestock. Paid slots fill fast. http://www.littlecreekmontana.com/shepherdcamp
Rub elbows with shepherds and culinary lamb experts at the Old Salt Co-Op Wood-Fired Festival and Campout June 23-25 in the Blackfoot Valley of Montana. https://www.oldsaltco-op.com/pages/festival
Eat: Montana Lamb Jam (2023 dates to be announced late February). http://mtsheep.org/montanalambjam/
Sleep: Overnight in a sheep wagon in Air BNB's Antique Montana Sheepherders Wagon in Belgrade, MT.
http://www.airbnb.com/users/3124664/listings)
Visit: Sheep milk and cheese products of Sheep Mountain Creamery, and farm tours (Helena area). Call ahead and reserve a visit time.
http://www. Kjnranch.com
Learn: Montana Fibershed (montanafibershed.org) helps connect people with fibers that can be raised in Montana, including wool, industrial hemp, and alpaca. They have a mission to help people know where their natural fiber based clothing comes from and the farmers and ranchers who raise it. They host events and sponsor interesting demonstrations like spinning wool to yarn for knitting.
https://www.montanafibershed.org/